How to maintain  your V-shaped face
- Trick to maintain your youthful look -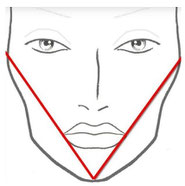 Today I want to share with you a little trick, how to maintain your youthful look without going under the knife. If you are interested, keep on reading.
Quite a while ago I saw a TV documentary about beauty. This documentary touched every aspect of beauty from plastic surgery, botox, fillers, ancient beauty rituals to individual beauty approaches. One woman that stood out of the mass, for me, was a woman from South America. She was in her eighties, which I couldn`t believe. I thought she was two decades younger. Here comes her "little secret":

To maintain her youthful looking face she always massages her face cream into her skin in an upward motion, so that her facial muscles won`t be dragged down, in addition to the normal ageing process. To furthermore counteract the sagging of her skin, she treats herself with a short 5-10 min face massage every evening. The massage is based on the same concept, to lift up her facial muscles and features. She promised an immediate as well as a long-term effect.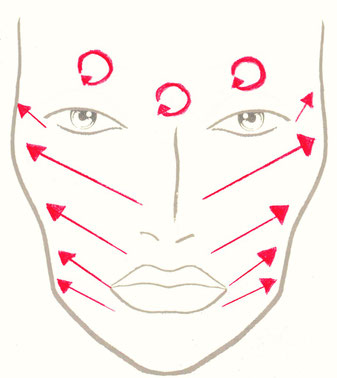 Here is what she does:
As you can see by the red arrows I painted on the face chart she massages her skin in an upward angle from the inside of her face to the outside. This is import: Always move from the inside to the outside, in an upward motion, to really lift up your facial muscles and features.

I adopted this routine by placing my middle and index flat onto my skin at the outer corner of my mouth moving up with light pressure of my fingers to the outside of my face. I repeat the same process for each red arrow 20-30 times until I have massaged both sides of my face. After that, I massage my forehead drawing little circles on my forehead again from the inside to the outside. And like the woman promised, after the massage, I noticed an instant lifting effect and over time I even improved my V-shape face form as well as my facial features.
I challenge you to try this one side of your face and compare it to the other untreated side. You will see that the massaged side looks more lifted than the other side.
Lately, I stepped up my face massage game by using this facial roller. While the routine on both face sides remains basically the same except I use the facial roller instead of my fingers, I have to change the routine slightly on my forehead. Because I can't draw tiny circles on my forehead with the roller, I first move it from my brow line to my hairline and afterwards from one side to the other side. I feel that the facial roller increases my blood circulation and somehow makes my skin look more glowy and even firmer in comparison with just using my fingers.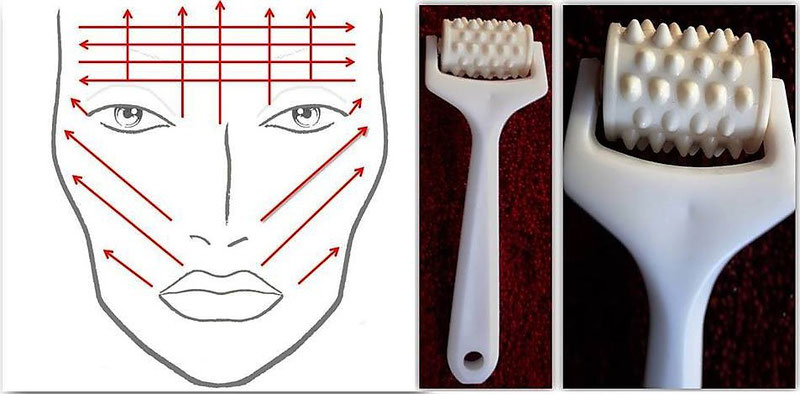 You can purchase a similar roller here
No matter what method you chose you can use your regular facial cream to preform the routine. I love to use oils like argan and coconut. Let me know, if you tried it or if you have any further questions regarding this routine