My Fashion favourite looks of the Met Ball 2016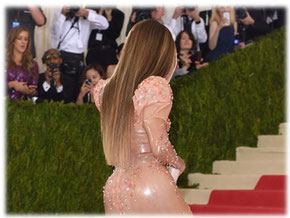 Watching red carpet events is one of my favourite things to do. I love to get inspired by all the different fashion, makeup and hair looks. Last Monday one of the most important red carpet events of the year took place - the Met Ball 2016. The Met Ball is the closing event for the annual costume exhibition of the Met`s Costume Institute and beforehand celebrities, designer and fashion influencer walk the red carpet to flaunt the newest creations.
Every Met Ball comes with a theme which goes hand in hand with the exhibition. This year's theme was "Manus x Machina: Fashion in an Age of Technology." The exhibit focused on the dichotomy between handmade haute couture and machine-made fashion. It showed over 100 garments; showcasing ready-to-wear, as well as haute couture, looks. The exposition pieces included handmade items but also designs which embraced new technology like laser cutting, 3D print or thermo shaping. Therefore, the theme created a large latitude concerning the dress code for the Met Ball. Here are my favourite looks of the night.
Zendaya wore a custom Michael Kors gown. This dress embodied the theme perfectly. The fabric choice looked like a second more perfect skin, creating a futuristic "from another world" appearance.
Beyonce wore a latex Givenchy gown embellished with pearls. It captured the theme, by combining technology (latex) with a natural element (pearls).
Zoe Salanda`s Dolce&Gabbana was probably my absolute favourite look. The bottom part of her dress was the eye-catcher of the evening. What I liked most about her dress was the fact, that she didn`t get on the futuristic-style bandwagon, and interpreted the theme in her own way by wearing a classic princess`s gown in a modern twist.

On Monday, I'll show you my favourite hair and makeup looks of the night. So don`t forget to come back and check it out. But for now, what was your favourite look of the evening? Please comment below.