My favourite beauty looks of the Met Ball 2016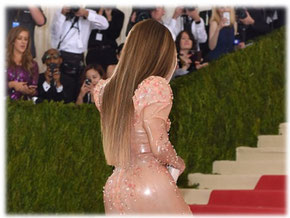 Hey everyone, today I show you my favourite beauty looks of the MetBall 2016. Some beauty trends clearly emerged throughout this evening: the bold dark red lip, metallic accents, braids, and shiny, almost glossy hairstyles. Each of these trends is wearable and can be incorporated into your daily beauty look. Here are my favourite looks of the evening.
Solely taken the beauty part into account, Rachel McAdams was my winner. While I only liked the upper part of Rachel McAdams's dress, her beauty look was flawless. The dark lips flattered her skin and the hairstyle enhanced her stunning makeup even further.
Katy Perry`s look was by far the most unsuitable for daily use but also the best transformation. Her bleached eyebrows and her pale skin in contrast to her dark hair and lips created a non-human creature look, truly hitting the "technology" part of the theme.
The perfect package of the evening was Zendaya. I really do think she was one of the few if not the only one, who looked stunning from head to toe. Her shiny hair, the glowing skin and the soft brown/bronze smokey eye complemented her dress perfectly.
What was your favourite beauty look of the evening?