Product Review
- Kiko Milano 3D Lifting Foundation -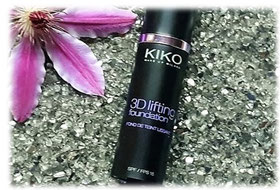 Normally, I only do a product review after testing it for a longer time, to see how it performs in different situations, with other products, and to notice any long-term effects. But this KIKO foundation really amazed me so much, that I couldn't wait to tell you about it. So let's dive right in.
Brand Information
KIKO MILANO is an Italian brand founded in 1997 by Peracassi. Their range includes makeup, face and body products. They promise innovative, high-quality products for affordable prices.

Product Information/ Packaging
The foundation comes in a sleek black plastic container with a purple print. It has a pump dispenser, an SPF 15, contains 30 ml and is available in 10 shades for 14,50 €.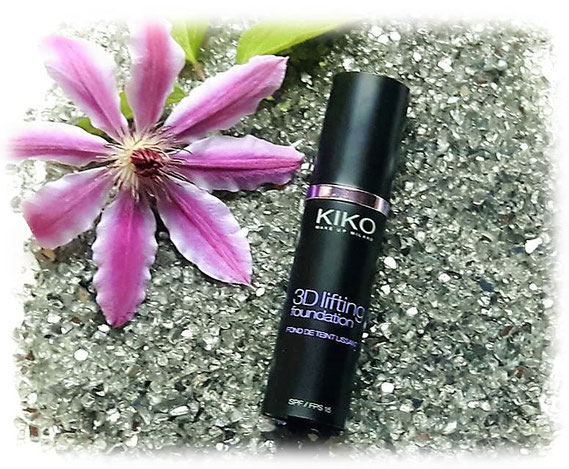 Product Promises / Claims
This product promises a lot. According to the product description, this is not only a foundation but also a skin care treatment. The formula is described as soft and creamy, to ensure a ultra-smooth application with adjustable coverage, for a natural, smooth skin tone with a fresh, radiant, long-lasting finish and a lifting effect. The results are supposed to be immediate as well as long-term.
The foundation contains the exclusive K²-multi-lift formula, an innovative plant complex containing highly purified hyaluronic acid and a biotechnological micro-algae extract.
The hyaluronic acid should create a thin protective film to maintain the skin's youthfulness, elasticity, and an even skin tone. It also consists special inorganic powders which should counteract with the skin irregularities to give a filler effect, by evening out the skin tone and minimising blemishes. Furthermore, the foundation is enriched with antioxidant Vitamin E and a medium protection factor (SPF 15), to fight photo-aging.

My Experience
The consistency is thicker than other liquid foundations. It feels like a rich face cream which appears to be a foundation at the same time. Although it is thicker in consistency, the application is easy. With just one and a half pump you can achieve a medium to full coverage, depending on your skin. The foundation sinks into the skin immediately, evens out the skin tone and leaves a dewy finish. I wore this foundation for several days, for more than 10 hours, with no touch ups. And besides some shininess around my nose, the product didn't move or wore off.
Regarding the lifting effect, my skin doesn't really need a lift. Nevertheless, right after application, I always have the feeling my skin looks firmer and more radiant. Throughout the day, I noticed, that the foundation neither sink into fine lines nor settles into the expression lines. The firmness and radiance also outlast the day.
I have been using this foundation for two weeks, so I can't say anything about the long-term results. But so far I have the feeling that my skin has improved. To me, it appears more even with less redness.

Final Thoughts
Would I recommend this foundation? Definitely.
I didn't expect much while buying this foundation. To be honest, I mainly bought it because it offered a shade light enough for my pale skin, for a really good price. After the first application, I was so amazed by the result, that I read the product description. So far, it keeps it promises. The skin looks firmer, more radiant and it lasts all day. For this price, I didn't expect such great results, and I highly recommend trying it out. I will definitely try other products of this brand.

Please let me know if you tried it out. Do you recommend any other KIKO products?