How to make a bold wallpaper work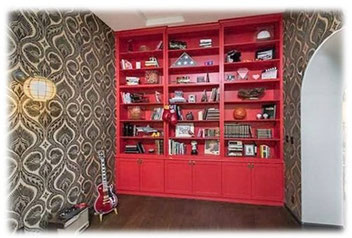 For quite some time, I have a slight obsession with bold wallpapers. I love how they can transform a space.  And the best thing is you don't always have to wallpaper a whole room to get the effect. Today I share with you some ideas how to make a bold wallpaper work. Let's get started.
1. Use a bold wallpaper to set visual accents
If you are just not ready to go all in, use the wallpaper strategically. For example, cover cabinet doors, the back wall of an open cabinet or shelves with it. Even simpler, frame pieces of wallpaper and hang it on your wall like a picture. By framing different patterned wallpapers, you can create a gallery wall.

2. Wallpaper your ceiling instead of your walls
By wallpapering just your ceiling, you can lower or lift it. By cover your ceiling with a metallic wallpaper, the light bounces off of it and creates the illusion of a higher ceiling. 

3. Start with one wall
Instead of covering the whole room with a bold wallpaper only place it on one wall to create a "feature wall". This way you avoid getting overwhelmed by the print but you still put a twist to the room.
4. Choose a painting-like wallpaper
Instead of going for a bold design, pick a wallpaper that could act like an oversized work of art, to create an eye-catching feature wall. 

5. Choose a side room
It does not need to be the main living area, think powder room or cloakroom, to play with a bold wallpaper. It is an easy way to glam up these rooms.

6. Play with contrasts
Okay, you did and covered a whole room with a really bold wallpaper. Now it might be tempting to arrange the whole room in a coordinating colour scheme. But hold on, instead of going the common way, think outside the box and play with contrasts. Use complementing colours or play with feminine and masculine elements. By adding softer elements to the room while using a graphic complete the picture.
As you can see, there are many options for making a bold wallpaper work. Just take a chance and try it out. Most shops offer samples so that you can try out different styles before you have to settle for one. Also nowadays, many wallpapers come in a removable version, so the whole process has become much more streamlined.

What do you think? Will you give one of my ideas a try?