Monthly Roundup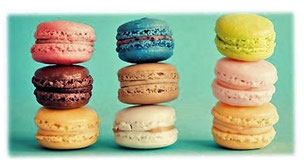 From now at the end of each month, I will dedicate the last post of the month to a Monthly RoundUp. It will contain the things that kept me occupied during this specific month. I don't limit it to beauty and fashion only, rather including other stuff, so that you get to know another side of me.
So without any further ado here is my July's RoundUp:
1. White Collar
Yes, I know I am a little late to the game, considering the show ended in 2014.
However, with my other favourite shows on summer break as well as a mostly bad German television programme, I followed my sister's recommendation. To put it lightly, I am hooked on it. It contains anything I want in a show: amazing characters, great storylines and a good sense of humour. So if you are like me and haven't watched the show already, I highly recommend it.
On another note, Matt Bomer plays the leading role, just sayin'.
2. Macaron Recipe
After many trials and errors, I finally found a Macaron Recipe that worked. I will be sharing it with you sometime in August, so make sure to keep on eye out for this post.
3. Birkenstock Gizeh Sandal
As you may have noticed by reading my fashion posts, I am a High Heel Girl all the way. Nevertheless, even I have to admit that on some rare occasions a flat shoe just works better. For the summertime, my flat shoe of choice is the Birkenstock Gizeh Sandal sandal. Their footbed moulds to the natural shape of my feet which makes them very comfortable. They come with a reasonable price tag. Furthermore, they are available in all kind of colours. So for a flat shoe, they are quite fashionable.
P.S.: I bought the silver one in the picture.
 
4. ColourPop Ships Internationally
Finally, after almost one year of waiting, ColourPop ships internationally.
Now I can finally try out myself if their Super Shock Eyeshadows and all their other products are worth the online hype. Their prices are definitely unbeatable. Nothing on their website is more exoensive than 8$. I already placed an order and will keep you updated on my thoughts of the ColourPop products.
That's it from my site for the month of July. What kept you occupied this month?