DIY - Homemade Macarons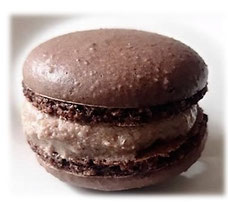 Here it is ... the Macaron recipe I promised you in my Monthly Roundup of July.
I love Macarons because they don't only taste heavenly, they also add that extra something to every coffee table. So finally, after several tries and errors, I found the one recipe that works and here it is.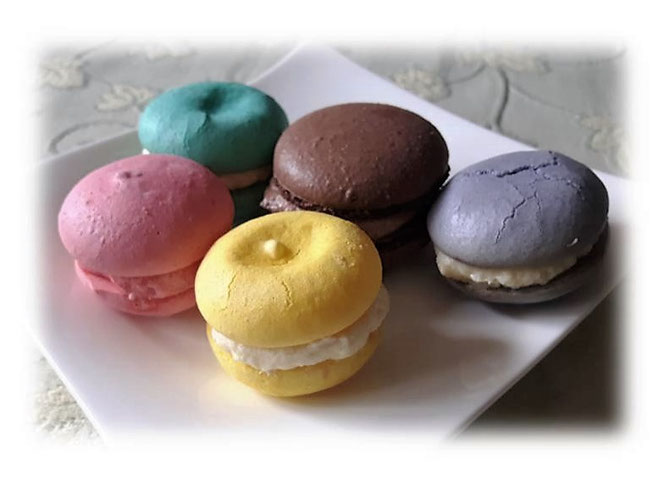 Macaron Dough
Ingredients
100 g Almond flour
60 g Egg White
A Pinch of Salt
140 g Icing Sugar
Food colouring

1. Sift the almond flour.
2. Beat the egg white with the pinch of salt until stiff.
3. Sift the icing sugar and carefully fold it in the beaten egg white. Keep stirring until the beaten egg white mass becomes thick and creamy.
4.  Add food colouring of your choice to the egg white mass. I always add a little bit more food colouring because the colour fades a little bit during the baking process.
5. Now gently fold the almond flour under the egg white mass.
6. Line two baking trays with baking paper.
7.  Place the macaron dough in a piping bag with a nozzle and pipe small balls of mixture onto the baking paper. The balls should be the size of a 2€ coin.
8. Beat the baking trays a few times on the working surface to avoid that air bubbles sealed within the dough.
9. Now leave the macarons to dry for 20-30 minutes before baking them for 15min at 150 °C.
10. After baking let the macaroons cool for a while before carefully removing them from the baking paper.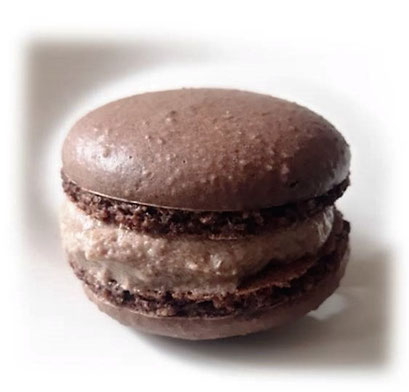 Macaron Buttercream Filling

Ingredients
1/2 pack of custard powder
50 g Sugar
250 ml Milk
125 g soft Butter
Food colouring (optional)

1. Stir the custard powder with sugar and 5 tablespoons of milk until the mixture is smooth.
2. Bring milk to boil. Take it off the stove and stir in the custard powder mixture.
3. Under frequently stirring bring pudding to the boil. Let the pudding boil for ca. 1 minute.
4. Cover the pudding with cling film and leave to cool somewhat.
5. For the buttercream stir the butter until creamy.
6. Now stir in the lukewarm pudding spoon by spoon. If you want to colour the buttercream filling, add some food colouring.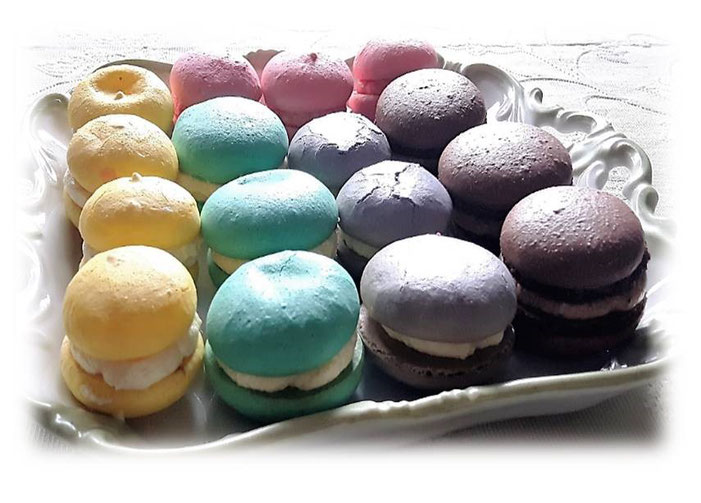 Final Touch

1. Place one-half of your macarons with the flat side up on a baking tray.
2. Fill your buttercream  into a piping bag and squeeze small mounds onto the flat side of your macarons.
3. Place the second half of your macarons on top of the buttercream mounds. Gently press against the buttercream filling.
4. Store the macarons in the refrigerator until you serve them.

The Macarons are perfect if they are crisp on the outside and a little bit soft on the inside. This way they melt-in-the-mouth and don't crumble to the bite.

Let me know if you tried the recipe and if it worked out. Have fun baking.