why you should include rosehip oil into your skin care routine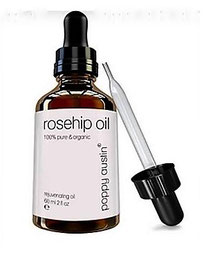 As I already mentioned in my August RoundUp, I have a new addition to my skin care routine: rosehip oil.
I included rosehip oil into my skin care routine because of its effective ingredients. It consists of vitamins, antioxidants and essential fatty acids. They help the skin to restore its youthfulness and to combat signs of premature ageing. Here are five benefits of rosehip oil.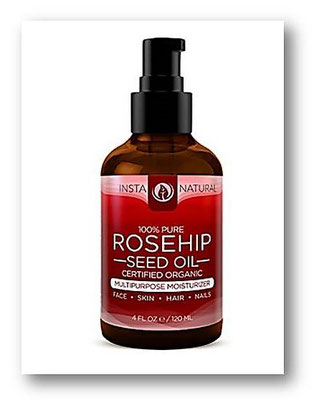 1. Anti-Ageing effect
Rosehip oil helps reducing fine lines and wrinkles because it contains high amounts of vitamin C, A, and lycopene. Both Vitamins stimulate your collagen production. Besides that, vitamin A is a small molecule. It can penetrate deeper into the skin and improves the skin's moisture levels. Vitamin C and lycopene can also repair the skin's surface and restore its elasticity. All of this leads to firmer, more youthful looking skin and who doesn't want this.
2. Photo-Ageing Protection
Like I mentioned in a previous post, the sun can damage your skin causing discoloration, dark spots and decrease of collagen, resulting in premature skin ageing.
The antioxidants in rosehip oil combat free radicals to protect the skin against the effects of the sun. Furthermore, the vitamin A, combined with the oil's essential fatty acids, can improve already visible skin damage by bettering the skin tone, texture and pigmentation. Vitamin C and A also counteract the decrease of collagen through sun exposure.
Please keep in mind that also the antioxidants of rosehip oil combat photo-ageing, it is not a replacement for your sunscreen.
3. Eczema and Scar Treatment
If you suffer from scarring or eczema, using rosehip oil can alleviate these skin conditions. The main constituents responsible for this are the essential fatty acids. They are emollients which improve the skin's flexibility as well as the permeability and help the skin regenerate/repair itself. More than that, these essential fatty acids aid in reducing dry and itchy skin, the common symptoms of eczema.
The vitamin A plays a role here as well since it has the ability to improve skin texture and tone.
4. Texture
If you shied away from using oils in your skincare routine, because they left an oily residue on your skin, you should try out rosehip oil. It is much lighter than other oils, non-greasy and therefore is absorbed quickly into your skin.
5. Historical Usage
Last but not least the efficiency of rosehips has been proven throughout the centuries. Because of their healing properties, the Egyptians, Mayans and Native Americans used rosehips as a remedy. The Britains even made syrup out of the oil and handed it to children during wartime to strengthen their bodies defences.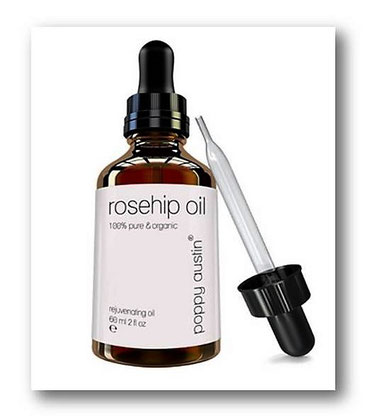 Tips
A good rosehip oil comes in a dark container to prevent rancidity, many of them are enriched with vitamin E to further improve their shelf life. I store mine in a drawer to maintain the quality of the oil. Furthermore, I would opt for a cold-pressed oil. They haven't been altered by heat and, therefore, retain more nutrients.
 
After using rosehip oil for almost eight weeks, I can see real improvements in my skin texture. It is less red, more moisturised, has a healthy glow, and fine lines are reduced. If you search for a product to improve your complexion, I highly recommend rosehip oil.

Let me know if you tried it. Until then...