Trend Alert
- Fall/Winter Trends 2016/17 -

With autumn already knocking on the door, it means we are entering in a new fashion season - Fall/Winter 2016/17. I thought I give you an overview of the biggest trends for the upcoming season. So let's jump right in.
1. The Velvet Touch
This will be the one fabric you can't escape this season. Velvet was all over the runways. Not only in clothing but also in shoes and accessories.

2. Tartan Vibes
Tartan has been around for a few centuries and yet it always seems to find his way back to the top of the fashion world. This season is no exception. Like velvet, it comes in different variations.
3. Fall Flowers
When it comes to flower prints in fashion, fall/winter is probably not the season which pops into your mind. This year you can transition your flower print pieces into the colder month. I particularly love the long maxi dresses with the all over print.
4. Layering Game
This trend allows you to wear your favourite sleeveless/slip dresses during the colder months by combining them with a turtleneck or sweater. Wearing a long sleeved top under your dress is a major trend this season.
5. Statement Fur
Whether you wear it as a coat, as a longline vest or as a collar, fur should have its moment in your wardrobe. Fur vests are great layering pieces on colder days. Additionally, they work great with other trends, for example, the Fall Flowers trend.
P.S.: I only wear fake fur but to each his own.

6. The New Denim
Denim is here to stay. This season it comes embroidered, with patches, in two-tones or even in patchwork styles.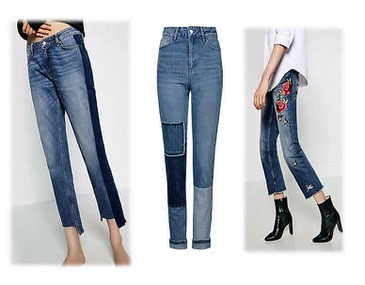 IMAGES:WHOWHATWEAR, POPSUGAR
7. Shades of Metallic
Clothing in metallic shades does not only amp up your holiday outfits. Combined with jeans or other basics they are also daytime appropriate.
8. Chokers
In the accessory department chokers are the big thing in the upcoming season. The bolder the better.
Of course, there are some more trends for this fall/winter season. I will include them into my upcoming fashion posts. Over the next weeks, I will post some outfit ideas on how to incorporate the trends into your wardrobe. So keep an eye out for these posts. Until then....