DIY Healthy Snack - Sesame/oat crispbread

It's been awhile since I shared a favourite recipe of mine and instead of something sweet I opt for a healthy nevertheless tasty snack -Sesame/Oat Crispbread. What more can you ask for? And here is what you need: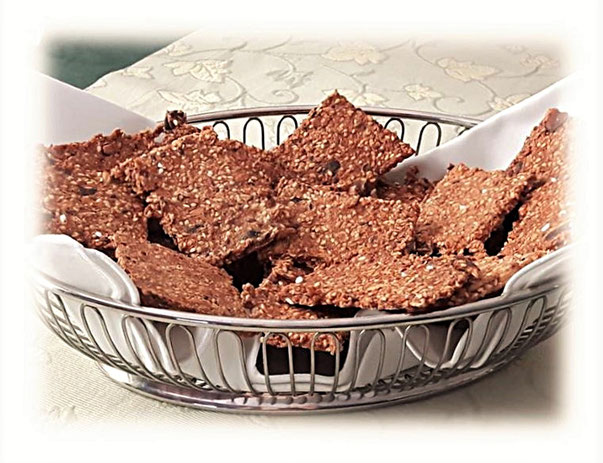 Ingredients for Sesame/Oat Crispbread
250g whole grain wheat flour
250g crisp oat flakes
120g sesame
  50g sunflower seeds
two heaped tablespoons of pumpkin seeds
two heaped tablespoons of flaxseed
2 teaspoons of salt
6 tablespoons of safflower oil or rapeseed oil
Preparation
1. Mix flour, crisp oat flakes, sesame, sunflower seeds, pumpkin seeds, flaxseed, and 2 teaspoons of salt together in a bowl.
2. Add 0,375 l of cold water and the oil to the mixture.
3. Use a dough hook to knead all ingredients into a tough dough.
4. Take 2 baking trays and cover them with silicone baking sheets.
5. Spread the dough onto the baking sheets into two squares with 30x30 cm.
6. Cut the dough into ca. 15 pieces (each ca. 6x10 cm).
7. Back the crispbread in the oven at 225°C for 5 minutes.
8. Reduce the temperature to 175°C and bake for another 20 min.
The crispbread is ready-baked and crisp if the outer rim is slightly browned.
10. After taking the crispbread out of the oven, remove it immediately from the baking sheets and let it cool down.
Tipp: You can eat the crispbread for breakfast with some cream cheese or on its own for a healthy snack in between.
Let me know if you gave it a try. Until then...