Steal of the Month
- OGX Thick & Full  Collagen & Biotin Shampoo -
Back in August, I told you about my new favourite hair shampoo the OGX Renewing Moroccan Argan Oil Shampoo. I love the silkiness and the texture it gives my hair. Apparently, I am not the only one who digs this shampoo. It was out of stock for a few weeks in every drugstore in my area. So I was left with no other option but to buy a different one. I decided to stick with the line and picked the OGX Thick&Full Collagen&Biotin Shampoo and never looked back. Here is why.
The shampoo promises to infuse nutrients into every strand. Thereby, creating the appearance of thicker, fuller, healthier looking hair, through the potential effectiveness of Vitamin B7 (also known as biotin), collagen and hydrolyzed wheat protein. 
Biotin is a key factor for healthy hair, skin, and nails. The hydrolyzed wheat protein is supposed to strengthen the hair from root to tip. Also, it's said to help repair already damaged follicles. The collagen is ought to plump up the hair fibre creating fuller locks.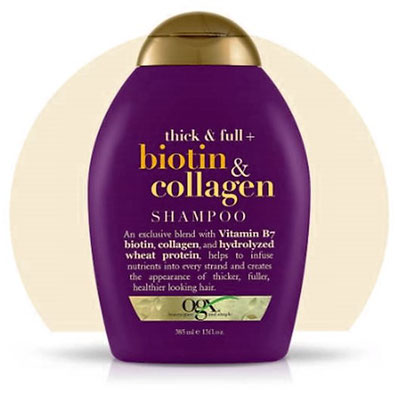 It is not an overstatement to say that the OGX Biotin&Collagen Shampoo is another notch up to my August Steal of the Month. As promised on the shampoo bottle, my finer hair looks visibly fuller and thicker. The improved volume is so apparent, people have asked me what I have done with my hair. Even better, this thickness lasts until the next shampooing. Furthermore, I still need no additional conditioner, my hair looks shiny, the texture is great, and the price remains the same as for the other shampoo.
Compared with the first OGX shampoo, the scent of this one is noticeably stronger, however, I can't get enough of it, as it reminds me of a fancy hair salon. If you a sensitive to scents, you might not like it. 
Everyone else having thinner hair will love this shampoo, promise.
By the way, not every shampoo of the OGX line seems to be that fabulous. My mum tried out their Macadamia Oil Shampoo. For her, it was nowhere near as good as the OGX Renewing Moroccan Argan Oil Shampoo.
That's it, for my Steal of the Month. Until then...