Product Review
- Urban Decay All Nighter Liquid Foundation -

Packaging
The gunmetal coloured bottle has clear cutouts, so you can always check how much foundation is still left. It contains 30ml of product and comes with an airless pump. I am a big fan of airless pumps as they guarantee usage down to the last drop.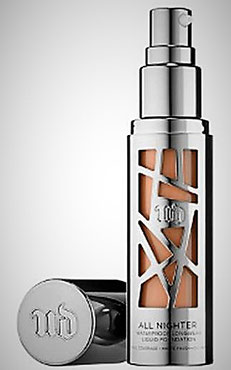 Product Information
The All Nighter Liquid Foundation comes in 24 shades with neutral, warm and cool undertones. The colour range starts with 0,5 and ends with 12,0. The higher the number the darker the shade. All shades with the end number 5 have cool undertones (pink, rose shades), the 0 numbers are for warm undertones (yellow/ golden), while the neutral shades end with a 25. You can get it for 36,00€ on urbandecay.com.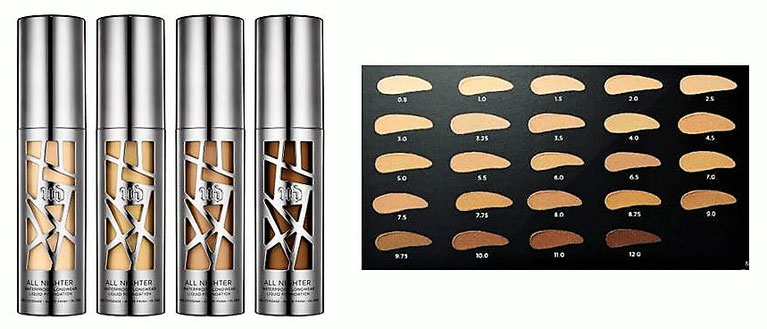 Product claims
According to Urban Decay, this foundation is waterproof, long-lasting, highly pigmented, therefore, provides full coverage with just one layer, delivers a flawless looking complexion with a matte finish, has a light diffusing effect of blurring out flaws, is paraben-free as well as oil-free, mattifies and absorbs oil to reduce the appearance of shine. 
Application
The foundation has a creamy consistency and is so highly pigmented, that one pump is enough to cover my whole face. To achieve the best result Urban Decay suggests applying the product with one their foundation brushes.
I apply it with a buffer brush as well as with a damp sponge. Whichever method I use the finish is always full coverage. I prefer the damp sponge to achieve a slightly dewy finish instead of total matte complexion when using a brush. 
My Experience
I have normal to combination skin. My area of concern is the nose. I have some redness around the nostrils and tend to get oily in this area. Every foundation I try must keep these problems in check.
Right after the application the All Nighter Foundation has a matte but not cakey finish. After it has set, my skin appears flawless. It doesn't accentuate pores, uneven skin, or expression lines; no matter how long it's on my face. The coverage is outstanding, even the redness around my nose almost disappears. The foundation lives up to its name by lasting all day long. Sometimes I get away with zero touch-ups, for the rest, I only have to polish around my nose. As a matter of fact, it withstands my workout sessions without a problem.
While applying don't go overboard, start slowly, only build up in areas that need extra coverage, otherwise, the foundation looks too heavy and unnatural. 

Final Verdict
The Urban Decay All Nighter Liquid Foundation is already one of my favourites which I will repurchase in a heartbeat.
You will love the All Nighter Liquid Foundation if you are looking for great coverage with an airbrushed finish that lasts all day long. In my opinion, it works best for normal to oily skin types. On dry ones, it might look cakey as it is oil-free and provides zero hydration.
Until then, have a good one.