Rolled Oats Cookies
- Quick home-baked cookies for every day -

I feel home-baked cookies always taste the best. To avoid to fall back on processed cookies, I always look out for recipes which are not too time-consuming. Today's Rolled Oats Cookies belong in this quick and easy preparation category. So let's dive right in.
250 g Butter
500 g Rolled Oats
2 Eggs
150 g Sugar
1 Package of Vanilla Sugar
Salt
50 g Flour
1 Heaped Tablespoon Baking Powder
Baking Paper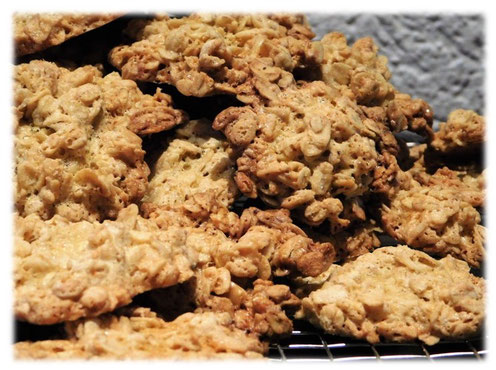 1. Boil up butter until foamy, then stir in the oat flakes and let it cool down.
2. Beat eggs, sugar, vanilla sugar and a pinch of salt until frothy. Mix flour and baking powder         and stir in frothy mixture. Finally, fold with oat flakes mix using a wooden spoon.
3. Use 2 tablespoons to place small heaps of the oat flakes mix onto the baking paper.
4. Bake at 170°C for about 20 min.
5. Let the cookies cool completely and then remove carefully from the baking paper. 
Let me know if you gave it a try. If so, enjoy!