Steal of the Month
- The Perfect Contour/ Bronzer Brush -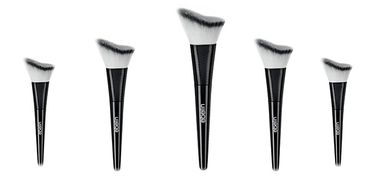 It's been a while since my last Steal of the Month, but they are hard to find. 
As a makeup artist and makeup lover, I am always on the hunt for new makeup products that amaze me. A few weeks ago, I came across this Rouge Brush by ebelin. 
At first sight, I was wondering why they named it Rouge Brush. For me, it looked like a contour/bronzer brush, and for this, I use the Brush.
Anyways, besides the name, I love this Brush. It is so soft, you hardly feel it on your skin. The Brush consists of synthetic hair making it suitable for all you vegans out there. Furthermore, you can use it both for cream and powder products.
However, the best thing about this Brush is its two-stage shape. It makes contouring and bronzing a no-brainer as it fits perfectly on the contours of the face. Oh, and your blending time is almost down to zero because the Brush does it for you while you're applying the product. 
What more could you want? 
A reasonable price. You shall have it. This perfect Contour/Bronzing Brush costs only 3,95 €. 
So it is a double win, works like a charm and is available for less than 5 €. If you have trouble blending in your bronzer/contour or you just wish to streamline your makeup application, I highly recommend this Brush. You won't be disappointed, I promise. I haven't used another brush to contour/bronze since I have bought this "Blush Brush".
P.S.: It also comes with a plastic cap to protect the Brush from dirt while you are travelling.
Please let me know if you gave it a try.