Beauty Tricks
- How to hold your makeup brushes correctly -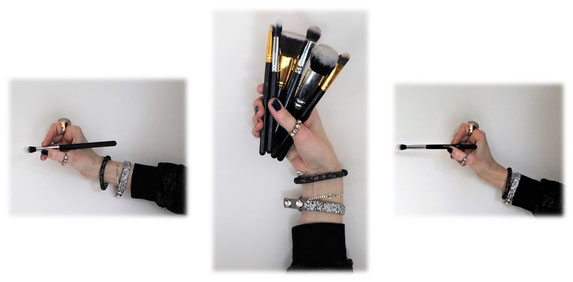 After introducing Style Tricks to my blog and positive feedback from you about those posts, I thought I take the idea to my Beauty Section and file it under Beauty Tricks. With Beauty Tricks, I will share with you tips and tricks I collected over the years to improve/streamline your beauty and makeup routine. 
I am often get asked how to avoid too harsh looking makeup/eyeshadow application. Too harsh and also patchy looking makeup is almost all the time a result of the way you hold your brush.
Many women hold their makeup brushes too close to their bristles. By doing so, they think they have more control over their makeup application. In fact, it actually exerts too much pressure to the brush resulting in a harsh and patchy looking makeup.
So, instead of holding your makeup brush close to the bristles, try to hold it from the top of the handle. Putting less pressure on the makeup brushes leads to a softer, more seamless and airbrushed-like makeup. It goes for every makeup brush no matter if it's for the face or the eyes. 
---

You shouldn't hold your makeup brush closer to the bristles than pictured above. A little further down the handle would be even better. It might take some practice, but it is worth it. Trust me.
---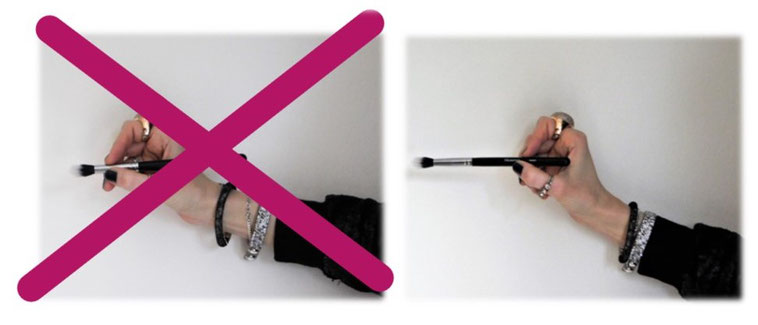 That's it for my first Beauty Trick post.
If you have any wishes or suggestions for what you would like me to cover in my Beauty Tricks, please let me know.