My Favourite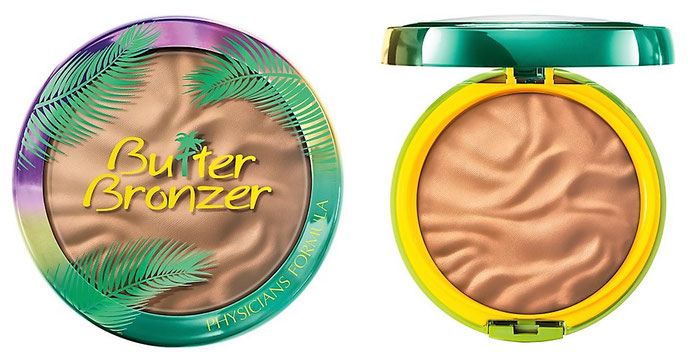 As a whiter shade of pale girl with a warm yellow undertone, finding a bronzer that works with my skin tone is quite a challenge.
Over the years I've gone through many bronzers of all prize rangers. Some of them I liked, most of them not so much. However, none of them awed me that much that I repurchased one of them.
So, after another unsatisfying bronzer trial this spring I started back at square one.
Finally, I decided to give the Physicians Formula Murumuru Butter Bronzer a try. I saw and read raving reviews about this bronzer for almost a year. Unfortunately, I couldn't get my hands on this bronzer as Physicians Formula wasn't available in Germany until this spring.
What can I say the Physicians Formula Murumuru Bronzer is the first one I have ever repurchased. This bronzer is the best I ever tried for only 16,99€.
Although it runs under the label "powder bronzer" the formula is almost creme-like or to go with the name soft like butter. It blends seamlessly into the skin and stays on for hours. The finish is what I always searched for not matte but also not sparkly just a lit-from-within glow. It almost looks like I don't wear a bronzer at all, that's how good the finish is. 
Colour-wise it works wonders for my skin tone. I have the shade "Bronzer" which is still on the lighter side but can be build up without caking. The shade is neither too warm nor too ashy. Besides to bronze my face, I also use the Murumuru Butter Bronzer to contour my cheekbones. This works for my skin tone, it might not work for everyone. 
---
The Bronzer comes in two shades "Light Bronzer" and "Bronzer". Both of them are on the lighter side. Therefore, pale girl like me can buy the darker shade. While for women of colour, the darker shade is probably still to light.
---
Oh, and the scent of the Murumuru Bronzer is also divine. It smells like summer in a pan. The only thing I don't like about this bronzer is the sponge applicator. For me it is useless, but then again I am drowning in makeup brushes. So I couldn't care less about the strange applicator.
Like I said before, I have and will rebuy this bronzer without a doubt. So far, I can wholeheartedly say, this is the best bronzer I ever tried. 
Have you tried the Physicians Formula Murumuru Bronzer?