Steal of the Month
#Makeup Revolution Illuminating Fixing Spray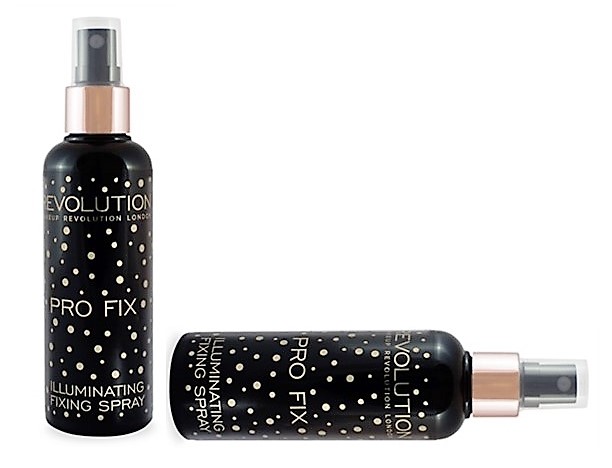 Although my devotion to the Urban Decay setting spray is an ongoing thing, I like to try out new ones because you never know what hidden gem you might uncover.
This time I picked up the Makeup Revolution Illuminating Fixing Spray. It contains 100 ml for just 6,95 €.

And I didn't regret it.
According to the description, the spray contains light-reflecting particles that create a natural, illuminating glow on your skin. Honestly, I haven't detected these light-reflecting particles so far, but something in this setting spray is working wonders. When I apply the setting spray over my makeup, it, of course, erases any excess powder residue (like every decent setting spray does) but much better than that transforms my makeup into a healthy dewy looking skin. Thereby, I mean this natural lit from within not that glittery, disco-ball-like glow.
I am in love with this setting spray because for the first time I don't have to add another creme or powder product to my makeup routine to achieve a dewy skin look. I just use the setting spray.
Frankly speaking, when it comes to keeping the makeup in place all day, the Makeup Revolution Spray can't outshine the Urban Decay All Nighter. Nevertheless, I can't get enough of the finish from the Makeup Revolution Setting Spray.
To get full use of this finish, I spray it on my beauty sponge and work it into my skin with my foundation. At the end of my makeup routine, I use the Urban Decay Setting spray to lock everything into place. By doing so, I kill two birds with one stone, I get the Makeup Revolution Glow through the makeup application and it stays like this due to the Urban Decay setting spray.
So, if you are on the hunt for a product that gives you a natural glow to your skin. I recommend adding the Makeup Revolution Illuminating Fixing Spray to your makeup routine.