Product Review
MAYBELLINE TOTAL TEMPTATION BROW DEFINER
#ProductReview  #Eyebrows #Maybelline #Beauty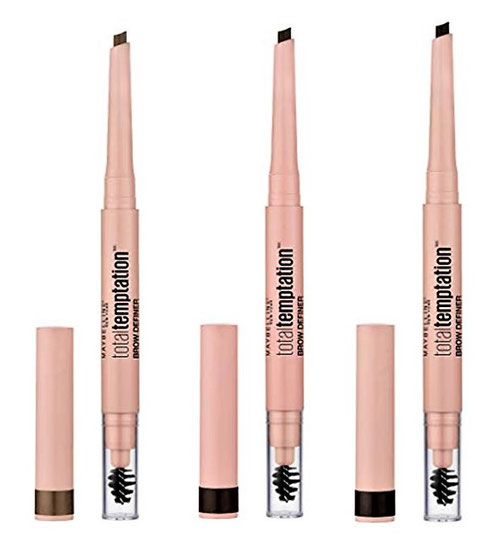 I can't count how many brow products from high end to drugstore, I  tried. Many eyebrow pencils are so stiff they barely transfer any product onto my brows. Then again, there are those who are way too soft and leave a smudgy unnatural looking mess on my brows.
For me, a perfect eyebrow product should give me a natural looking result that stays in place, even when I touch my brows at a decent the price point.
So, on my never-ending search for the perfect eyebrow product, I came across the Maybelline TOTAL TEMPTATION BROW DEFINER. 
The product description met my needs. According to Maybelline, the TOTAL TEMPTATION BROW DEFINER has a unique teardrop tip that easily fills and shapes the brows for a full, softly defined look while the fluffy spoolie softly blends the product for natural-looking brows.
Here's my experience
1. The "teardrop-shaped" tip is for sure one of the thinnest I ever used. This tip allows me to draw on tiny        strokes to create a natural looking eyebrow.
2. The consistency of the Brow Definer is a dream. It is not to smooth and not too stiff. You can build up the      product if you want to and the result is never cakey or unnatural just bolder.
3. The spoolie is perfect, especially for sparser brows. The tiny ball-shape blends the product instead of            moving it to unwanted parts of my eyes as bigger spoolies do. 
4. The staying power of the pencil is good. It doesn't wear off during the day even after a sweaty sports              session. Although, I have to say I noticed a slight colour washing out effect after sports or at the end of a        long day. Maybe a waterproof version of this pencil could fix the problem.

---
The only thing I don't like about this pencil is the colour selection. Here, in Germany, the Brow Definer is available in 3 colours blonde, soft brown and deep brown.  In the US you can purchase a fourth colour "medium brown". This limited colour range excludes too many hair colours like red- and dark-haired people. Therefore, I think the colour selection of the Brow Definer needs an extension.
---
My Final Verdict
This is the best drugstore eyebrow pencil I ever used. I already recommended the Brow Definer to my sister and my mother. They love it, too. It performs better than most of the high-end products I tried out. Price-wise the Brow Definer is a total winner with under 10€.
For sparse brows, the Total Temptation Brow Definer is one of the best eyebrow products I tested so far. This is a must-buy product if you can find a matching shade.

By the way, I am using the Brow Definer in the shade "blonde".